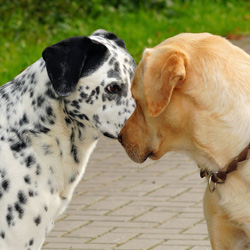 Dakota works with 4 or 5 different rescue organizations these days, to varying degrees. We see at least one rescue dog or cat a day, often several in one day. We like to help the rescues by doing some pro bono work because, hey, the whole reason we became vets and vet techs and assistants is because we love animals and want to help them. A lot of it is just making sure these pets don't have any medical issues before they get adopted, and then making sure they are neutered/spayed and dewormed. Sometimes these dogs and cats have more serious issues that need to be taken care of (think heartworm disease, skin problems, broken bones, etc).
With Facebook, Instagram and Twitter it's gotten a lot easier to let the public know about pets needing homes or fundraising events to help take care of these animals. Most of the time the posted information is focused on the animals that need assistance or homes, but rarely do we see information about the rescues themselves and how hard they work.
Most of the organizations we work with do not own a physical building to provide shelter for rescued pets that are looking for forever homes. They have a large and complex network of foster families that often need to be mobilized at a moment's notice when a group of dogs is rescued. This involves a TON of organization and often some begging and pleading to find placement for dogs in need.
These rescues also have to work on a very tight budget – unlike the Winnipeg Humane Society there is no government funding. Everything they do is based on public donations. No funding = no food or treatments.The reality of this situation is that when there is no funding, sometimes the 'ideal' treatment is not possible and we have to move on to the next best thing.
The people who run these rescues Never. Stop. Working. Weekends, middle of the night, holidays….pets still need help during these times and my guess is that you will often find rescue coordinators texting or making calls to take care of animals while they are trying to enjoy their family barbeque/child's birthday party/Christmas concert/whatever. Imagine trying to find someone willing to make a 7 hour drive to a remote location with a vehicle large enough to bring back 10 abandoned puppies. Or flying an injured animal into the city and arranging a ride to a medical care facility as quickly as possible to alleviate pain and suffering. These are just a couple of the challenges rescues face.
Unfortunately with limited resources there are times when difficult decisions need to be made. They can't save every single animal that needs it, and often times rescues have to decide whether to direct funds towards saving one single animal with extensive medical needs or towards several young healthy dogs that just need to be fed and vaccinated. No one likes having to decide who survives and who doesn't, but it has to be done. It makes me sad to see rescue organizations getting 'hate mail' on Facebook and Twitter for 'not doing enough' – especially when those comments come from people who are not actively involved in rescue and don't understand the process.
For anyone interested in supporting an animal rescue group, don't be afraid to get creative. Support comes in many forms – monetary donations are great but if money is tight you can host your own fundraising event to encourage others to donate. You can also donate your time or expertise to the cause. And they are always looking for good foster homes to provide temporary care for dogs and cats that are looking for their forever homes